New Rules Go Into Effect in December 2018 But Apply Retroactively to Comparable Year Financials
Before you start the process of adopting FASB 842 and IFRS 16, it's crucial that you understand the urgency of moving quickly.
Note that this is the second part of a series of blog articles addressing how to adopt the new lease accounting standards for FASB 842 and IFRS 16. To read part 1, please click here.
Here's why: For an entity that elects to apply practical expedients to the identification and classification of leases that commenced before the effective date, FASB 842 states that "lessees are required to recognize a right-of-use asset (ROU asset) and a lease liability for all operating leases at each reporting date based on the present value of the remaining minimum rental payments that were tracked and disclosed under previous GAAP".
What this means, in simple terms, is that if a company decides to present comparative period financial statements of fiscal years prior to FASB 842's effective date of 12/15/2018, those prior year financials will have to reflect ROU assets and lease liabilities. So if a company typically presents two prior years of comparative financials, it would have to present the impact of FASB 842 on 2017 and 2018 financials when comparatively presented with 2019 financials.
With 2017 drawing to a close, it's imperative that companies act now to understand and account for FASB 842 and IFRS 16 on 2017 and 2018 financials. If you're unsure how, read LeaseQuery's Transition Guide for FASB 842 and IFRS 16, which we have summarized below.
Step-By-Step Lease Accounting Transition Guide for FASB 842 and IFRS 16

Companies typically lease several items of daily corporate use, such as computers and office equipment, which are valued at less than $5,000 apiece, and accounting for all of them as ROU assets can quickly become a nightmare. While IFRS 16 allows an exemption for all "small ticket items" with a fair value of less than $5,000 each (even if, when combined, those assets could be deemed material), FASB 842 does not provide such an exemption.
However, there is a workaround, and that is to establish a written policy to exempt leased assets below a certain dollar-value threshold that you deem appropriate, with good reasoning and justification; then – this is important – present the policy to your external auditors and get their feedback and approval. If you can develop an exemption policy that your auditors approve of, you will not have to list out small ticket items, and could save yourself a lot of time and money while still being compliant with FASB 842.
Now that you have a standard lease exemption policy in place, it's time to put together a team, across relevant departments and multiple locations, which will help your organization transition to the new rules.

Start by appointing a point person to head the transition (Transition Team Leader), ideally in the corporate controller's office. Then, have the Team Leader identify potential departments in your company that have or know about any leases or leased assets, and assign a Transition Team point person at each department. Such departments include Real Estate (typically in larger companies), Purchasing/Supply Chain, IT, Legal, Finance, Accounting and Treasury.

Once you have your lease transition team in place, it's time to get everyone working together on developing a list of leased assets across the organization, along with lease contract details. The list should include details such as:
lease start and end dates for each leased asset

monthly lease payment amounts

the current accounting treatment of the lease

borrowing costs associated with the lease, if any (this could help calculate ROU asset value)

optional lease extension clauses and the likelihood that leases might be extended

optional asset purchase clauses

and whether the lease is embedded on other contracts, such as with IT outsourcing partners.
Aside from boiler-plate legalese, the more information you have on lease details, the better. Often, companies contract with specialized lease brokers, so your point person may have to reach out to them (and to former or reassigned employees) to get a thorough and accurate listing of all leases. So select persons with attention-to-detail and good communication skills to make sure nothing slips through the cracks.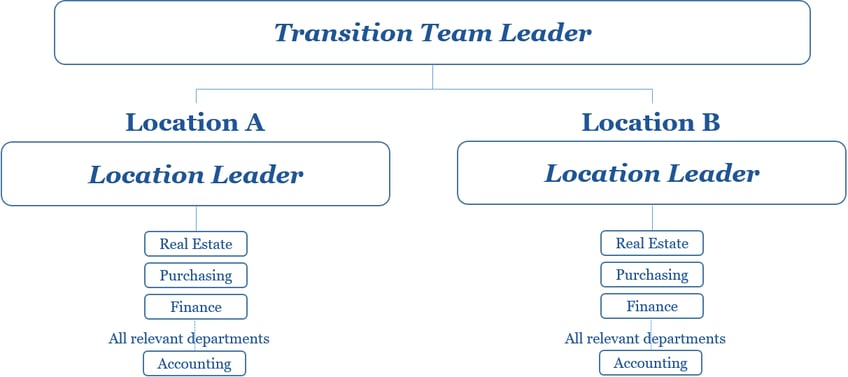 For companies with multiple locations, the team leader should identify a "Location Leader" to collect detailed information on all leases at that location. This person should ideally be in a finance role (such as the Corporate Controller who is intimately familiar with the location's operations and accounting details) and have a reputation for working well with other departments.

Once all locations have been identified, and point persons assigned at relevant departments at each location, your transition team is in place and ready to move ahead.
To get them all started, the Team Leader should develop a Lease Details Template and send it out to Location Leaders for further dissemination to Lease Coordinators at relevant departments at each location, along with a realistic reporting deadline.

Next, from your financial reporting department, get details on all 5-year lease commitments. These are typically disclosed in Notes to financial statements and should be fairly easy to collect, especially from 10-Q and 10-K filings for public companies.

In addition, get details on the deferred rent (straight line) schedule for each asset at all departments and all locations. Not all companies have deferred rent schedules but if they do, they are typically housed in the corporate accounting department.

Get details on rent expense for the most recently completed year-end audit. This information is required disclosure on audited annual financial statements and, in larger organizations, can be obtained from the financial reporting department.

Now that you have a fairly comprehensive list of all your leases, sort through them to identify and track down missing pieces of information and eliminate duplicates.

Also make sure all 5-year lease commitments and deferred rent schedules are accounted for in the final list.

The following is your "reasonableness test". Here's what you do: Use your final list to calculate straight-line rent expense on all your leases; then compare your calculated number to what was listed on your most recent, audited annual financial statement (from Step 10).
If your calculated number is significantly lower than what is in the audited financials, you're probably missing a few leases, so try and track them down. On the flip side, if your calculated number is significantly higher, then there's either another G/L account where rent expense is recorded, or your accounting team made a mistake in its rent expense calculations for the audited financials (it's rare, but mistakes do happen, where leases get missed and overlooked year after year).

Upon completion of Step 13, you're ready to select a Lease Accounting software solution. By the way, a lease accounting solution is not the same as a lease management solution. Lease accounting solutions are developed specifically for the accounting and financial reporting aspects of leases, whereas lease management solutions were developed to manage the logistics of leases such as lease payments, and do not address the nuances of lease accounting.
For instance, lease accounting software can:
distinguish between short-term and long-term deferred rent under GAAP

handle amortization of initial direct costs and tenant improvement allowances

handle the accounting of pre-mature lease terminations or modifications

change borrowing rates on modified capital leases

handle foreign currencies, and more... features and tasks that lease management software is ill-equipped to reliably handle or perform.
Moreover, SaaS-based lease accounting software is continually updated and does the heavy-lifting to make sure your lease accounting is always in full compliance with FASB 842 and IFRS 16.
---
Here is a free tool you can use to determine if your lease is a Capital or Operating Lease. It goes through the four tests for capital leases. To access the test (for free), click here.
If you liked this blog, here are some other posts you may enjoy:
Introduction to IFRS 16: A comprehensive summary of IFRS 16: Lease Accounting
Capital Lease Accounting: A Comprehensive Example (with actual numbers)
About LeaseQuery:
LeaseQuery is your easy button for lease accounting software. Utilizing cloud software, they excel in seamlessly transitioning you from current GAAP to FASB 842 and IFRS 16: The New Lease Accounting Standards.